Avoid running out of heating oil, causing costly damage to your boiler, and the need for an emergency delivery with CPS Fuels mini guide of top tips on how to measure the oil in your tank.
Set a regular day to check
However you choose to monitor your heating oil, it is a good idea to set a regular day to check your tank's oil level.
Whether you have a fuel gauge or not, popping a reminder in your phone or marking a specific day on your calendar can make all the difference and gets you into a routine.
And please do remember to check that your gauge is in working order. If it hasn't moved in a month and you know you've been using your heating there's a good chance it's not recording the level correctly. Mister C advises getting it checked.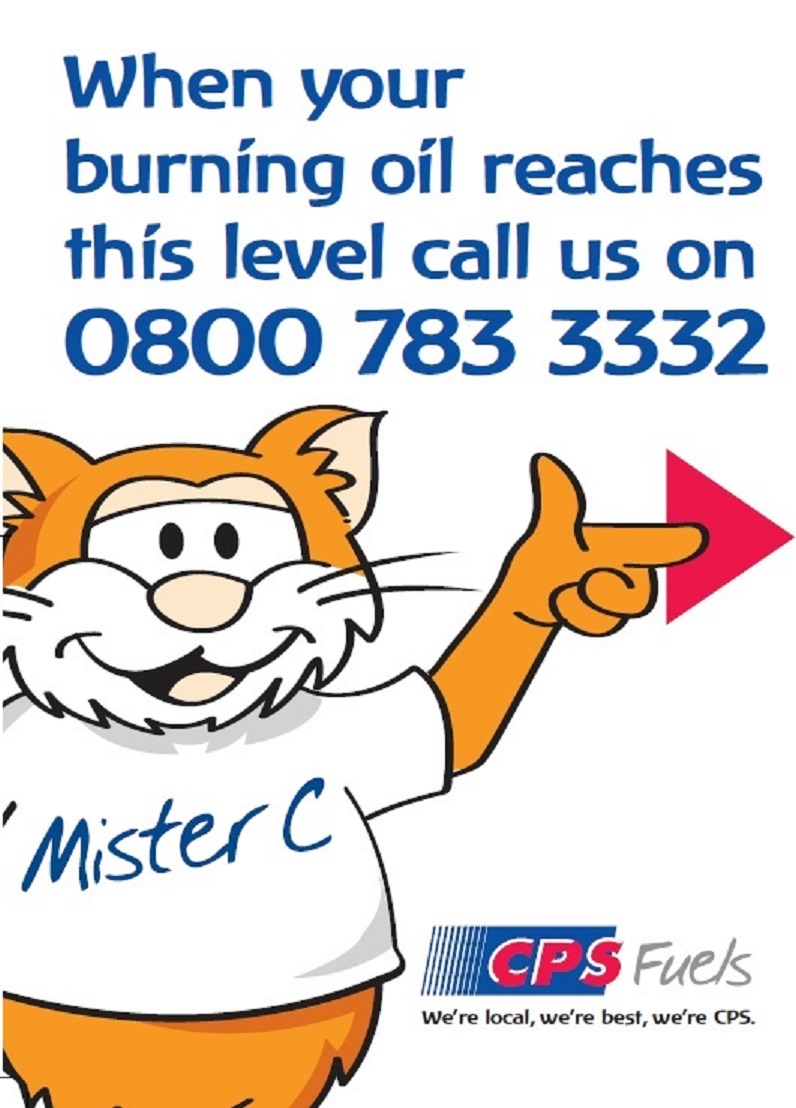 Get to know your fuel oil tank
It may sound obvious but it's helpful to know your starting point. If you're unsure of the size of your tank and its capacity you should find a label on the tank that tells you. On more recent tanks, it may be on the front or side. Mister C knows many manufacturers have tank model guides on their websites.
To measure, some tanks have simple float gauges or sight level tubes that allow you to keep an eye on your oil level. Make sure you turn the sight gauge lever when you check the level. It should be left in the off position to minimise the chance of leaks.
When your gauge indicates that the tank is still about one quarter full, it is a wise time to order. The winter months are the busiest time for fuel oil companies so ordering in plenty of time will avoid leaving it too late.
If you have a digital monitor
If your tank has a digital monitor that plugs into an electric socket inside the house, such as an Apollo or Watchman, ordering when the digit reaches 1 or 2 (1 or 2 bars) is usually the ideal time.
Most systems are designed to flash at either Level 1 or Level 2. When the monitor first starts flashing at these levels, there's no need to panic or turn off your heating as you have oil left in the tank - the flashing is merely a visible reminder to place your order.
Mister C says that a correctly set up tank should never have the sensors placed on the bottom of the tank so even when the monitor registers zero or zero bars there will still be approximately 10% of fuel left in the tank.
Can't beat a dipstick
If your tank has no gauging system, or you want to double-check the accuracy of your gauge, the best and most basic method is to measure and monitor how much oil you have with a dipstick by dipping the tank.
To avoid contamination, make sure you use a clean dipstick and that it is used solely for your oil tank.
To measure your tank manually Mister C says; take the cap off the top of the tank, which is where the fuel goes in, and put the dipstick right down to the bottom of the tank. When the stick is withdrawn, the oil will leave a mark on the stick consistent with the level of oil. When your tank level gets down to around the last 12 inches (approx. 30cm), we recommend it's time to order your fuel.
Don't let your oil level fall to low
Apart from averting an oil emergency, keeping approximately 12 inches of oil in the bottom of your tank will also help to prevent a delivery disrupting the sediment that settles at the tank's base. This sediment can clog up your filters, supply pipe and lead to costly repairs.
For a steel tank capacity guide click here. If you have a plastic tank we would recommend checking with the manufacturer online for a capacity guide (strapping chart) for your make and model.
Oil for heating, we take some beating!
To top up your tank with low cost heating oil click or call CPS Fuels now.
We're local, we're best, we're CPS.