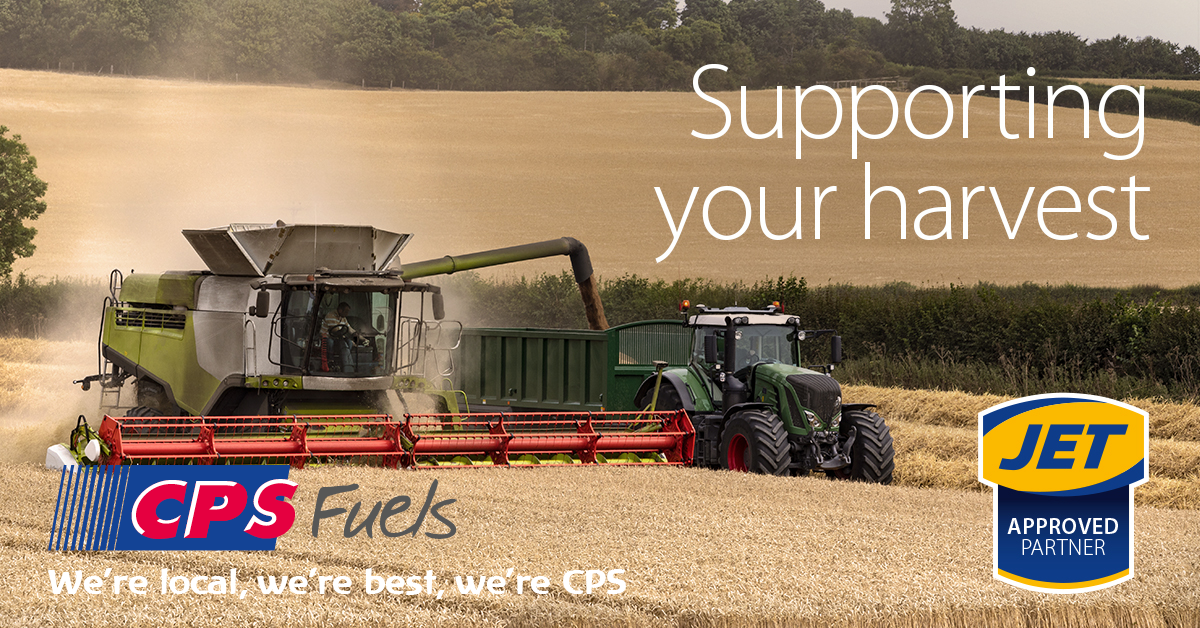 Farmers and the wider agricultural community across the UK are reporting issues with Gas Oil (Red Diesel). These issues are leading to operational problems with, and blocked fuel filters in, tractors and other plant equipment.
UKIFDA, the fuel distributions trade organisation, have confirmed that the operational problems are nationwide and not restricted to any one fuel supplier or distributor.
CPS Fuels, as a JET authorised distributor with the backing and support of Phillips P66, have been quick to assist the agricultural community in East Anglia.
Keith Read, former farmer and now part of the CPS Fuels Agricultural Team, explains why we are seeing issues with Gas Oil:
"The Road Transport Fuel Obligation (RTFO) was first introduced in 2008. It required all fuel refiners to add levels of FAME to most UK fuels. The reason for adding FAME to fuel is to reduce the levels of fossil fuels, by replacing part of the mineral fuel with a sustainable element.

Since 2008 the levels of FAME in Gas Oil has varied, but until recently was at very low levels and caused few problems when used in farming or plant equipment. The level of FAME has now risen significantly. From January 2019 the target was 8.5% and is set to increase up to 12.4% by 2032.

The challenge with biofuels such as FAME is that they have a chemical property which means they absorb surprisingly high levels of moisture from the atmosphere. This moisture forms tiny droplets in the fuel, then drops down to settle the bottom of the tank, where it collects as free water.

Where this water and the fuel meets, organic bacteria that are always present in mineral fuel in microscopic form, clump together and form a thick sludge, usually black, but can show as a white waxy substance. It is this family of 'diesel bugs' that are causing the problems we are now seeing."
As part of CPS Fuel's commitment to promoting best practice in the farming industry in East Anglia, we are reiterating and expanding on guidance previously shared with our farming customers.
Six measures to minimise the impact of FAME in Gas Oil.
1) Check your fuel storage tank
If you still have a single skinned tank it's probably time to upgrade to a bunded one. Aside from having a 'second skin' to prevent oil leaks, bunded tanks help reduce the levels of condensation in the fuel which is a major problem as the fuel gets cold overnight and then sunshine warms the single skin of the tank. The temperature difference promotes condensation, especially in the spring and autumn seasons when the highest temperature changes occur.
2) Location matters
Keeping the tank in a location that is as dry as possible will help reduce the water build-up and in turn the contamination issues. Therefore, we recommend where possible storing your tank out of the rain. However, storing inside farm buildings that contain livestock over the winter should also be avoided as the humidity of these sheds can lead to significant problems.
3) Top up before you run low
The most common time for the problem with contamination to be reported is immediately after a fuel delivery. This often leads to the conclusion that the fuel delivery has been the source of the problem – but what happens is that if the fuel level was very low before the delivery, the action of pumping fuel in at high pressure causes the contamination at the bottom of the tank (often below the outlet level) to mix around the fuel and then out of the fuel lines into the engine or boiler.
One option is to make sure any water and contamination in the bottom of the tank is regularly drained, another is to not allow the fuel levels to drop much below halfway to reduce the risk of stirring up any contamination. It should be noted that this second option will only delay, not resolve the problem!
4) Remove water from your storage tank
If your tank has a water drain then run off any free water that has accumulated in your tank. If no water drain is fitted then there are various water soaking devices you can use to absorb water from your fuel storage tank. which includes the Tank Sponge Eco, a device which is dropped into the tank to soak up any water that might form at the bottom. Once full, the insert within the device can be replaced with a new unit, each one able to absorb up to 700ml.
5) Consider storage additives to protect your machinery
There is no additive which can remove water from the fuel, however, there are additives that can reduce the buildup of microbial contamination. Care must be taken however, as using these additives in a badly contaminated tank will tend to flood the fuel lines and filters with dead bacterial sludge.
Assuming that the tank and fuel is clean, the use of fuel additives (which are supplied by most major fuel distributors) will help slow the buildup and reduce the risk of waxing and of course, still provide the usual performance and efficiency improvements.
6) Fit proper filtration on your fuel bunker
CPS Fuels are Farmers too. At Foxburrow we store our Tractor Diesel in a 10000 litre FuelProof tank, which was installed in 2016. All machinery is bunkered through a 4 micron Cim-Tek filter fitted to that tank and the machinery uses Largo filters on all the equipment. Our Farm runs modern machinery: Agco tractors, Claas Combines and JCB handling equipment. The farm has had no problems, filter blockages or fuel issues running on Gas Oil supplied direct from CPS Fuels.
To conclude we believe users must tackle these issues now as FAME isn't going away and will only increase over time with the next increase to 9.75% set for 2020.
CPS Fuels have a very experienced tank engineering team who would be pleased to provide help, advice and assistance to all our agricultural customers so they can bring their installations up to scratch and so ensure that the fuel they store is kept and dispensed in the best possible condition.
To order Gas Oil and farm fuels in Bulk or Barrels click or call CPS Fuels now.
We're local, we're best, we're CPS.
CPS Fuels, as a JET authorised distributor, supply marked EN590 grade diesel as Gas Oil so you have the highest quality Gas Oil available irrespective of use. CPS Fuels Gas Oil meets the same BS EN590 specifications as white road diesel and is therefore suitable for use in all farm machinery. The fuel properties of Gas Oil are adjusted seasonally to maintain good low temperature performance and operability.
For our CPS Gas Oil information sheet click here.
Phillips P66: Gas Oil safety data sheet & Gas Oil marketing specification sheet